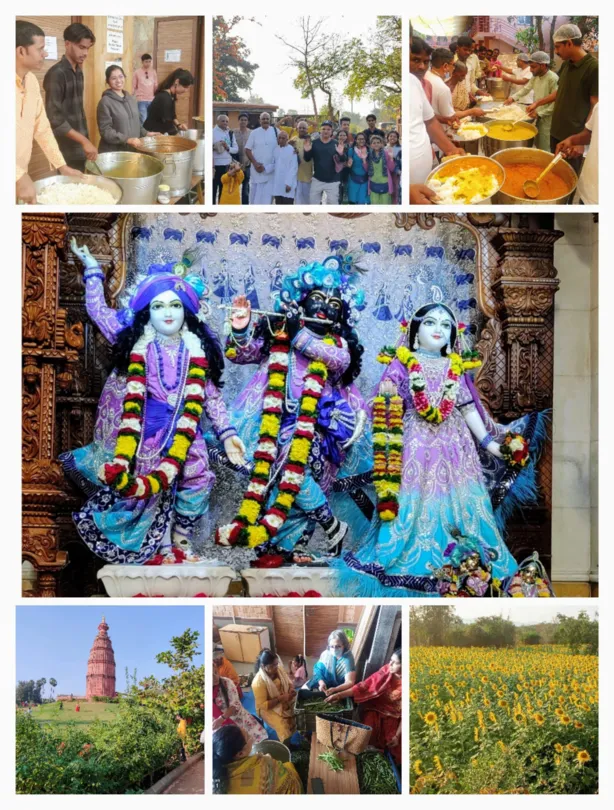 Shram Daan at GEV - 12 Feb 23
The International Society for Krishna Consciousness's (ISKCON's) Govardhan Eco Village (GEV), located near Wada some 100 kilometers from Mumbai, has received praise on a global scale. Seven temples housing the deities of Vrindavan are located within GEV, which spans more than 100 acres. River Yamuna and Govardhan are also present. A recreation of the Vrindavan woodland can also be found here, along with several other sacred sites from the Vraja Mandal where Lord Krishna performed His pastimes. To accommodate visitors staying overnight, it also has a Gurukul, Goshala, and Retreat Center.
GEV is in need of volunteers to help out at GEV on Sundays, the 2nd and 4th Saturdays, and on official holidays.
Timing: The Seva lasts for around four hours. from 1100 till 1630 hours (with lunch break)
Who Can Apply: Anyone who is motivated and eager to help maintain Govardhan Eco Village, a holy site. (However, the deity worship and pujari seva are only accessible to initiated devotees.)
How to Get There: Take the 7.51 am Andheri-Dahanu local train from Andheri, and you'll arrive in Boisar around 9.15. GEV will organize pickup from Boisar and transport you to them.
Nature of services:
Gardening
Seven Goswami Temple cleaning
Srinathji Cafe and Gift shop (on-the-counter serving)
Sunday feast prasadam cooking
Helping in Nursery
Tour guide for Vrindavan Forest
Goshala cleaning
Prasadam serving and Events coordination in Guest Area
Arati, Bhoga cooking and offering, attendant pujari when darshan is open (for 1st / 2nd Initiated devotees)
Deity backup service
Q & A in the temple hall
There is a daily cap of 20 devotees. If they so want, others may arrive independently. Breakfast, lunch, and snacks/dinner prasadam are all free for volunteers. Additionally, a space for them to rest in the afternoon will be given.
Return trip: There are two evening departures from Boisar to Churchgate at 6.10 and 6.35 p.m. local time. The drop-off from GEV to Boisar must be scheduled by GEV.
Excited!!!! If you would like to sign up for this Shramadaan Seva, please click the tab below.
Please call our Seva Coordinator Krishna Bihari Das at 8104344648 for further information
Check out the Photos of Shrama Daan at GEV on 8,15, 22 Jan & 5 Feb 23👇
Sunday, 12 February 2023
11:00 AM - 4:00 PM
ISKCON GEV
Govardhan Ecovillage, H.No. 586, Galtare, P.O. Hamrapur, Wada Taluka, Maharashtra 421303
Direction
Please click on the Lotus 🪷 Circle to register for Seva.
सेवा के लिए पंजीकरण करने के लिए कृपया लोटस 🪷 सर्कल पर क्लिक करें।
Registered Volunteers:
| Name | Slot |
| --- | --- |
| Abhishek Menon | ISKCON GEV SEVA |
| Amit Jain | ISKCON GEV SEVA |
| Anil Dhaliya | ISKCON GEV SEVA |
| Ankita Patel | ISKCON GEV SEVA |
| Ashish Jaiswal | ISKCON GEV SEVA |
| Dnyaneshwar Devkar | ISKCON GEV SEVA |
| Jauharilal Tungariya | ISKCON GEV SEVA |
| Laxmikant Das | ISKCON GEV SEVA |
| Madhav Kashyup | ISKCON GEV SEVA |
| Meena .vErma | ISKCON GEV SEVA |
| Neha Patel | ISKCON GEV SEVA |
| Prashant Maurya | ISKCON GEV SEVA |
| Raj Kumar | ISKCON GEV SEVA |
| Saahil Shukla | ISKCON GEV SEVA |
| Shubham Mishra | ISKCON GEV SEVA |
| Shyamsunder | ISKCON GEV SEVA |
| Varsha Sanjay Hodar | ISKCON GEV SEVA |
| Yogesh Desai | ISKCON GEV SEVA |